Stories in Early Years
In Early Years, our curriculum is underpinned by a diverse selection of high quality picture books as well as oral story telling, singing and role play.
Each year group in Early Years explores a selection of key texts throughout the year and we link lots of our classroom activities and experiences to the story too. When we introduce a new story we take care to practise any unfamiliar words and make sure that we understand what they mean.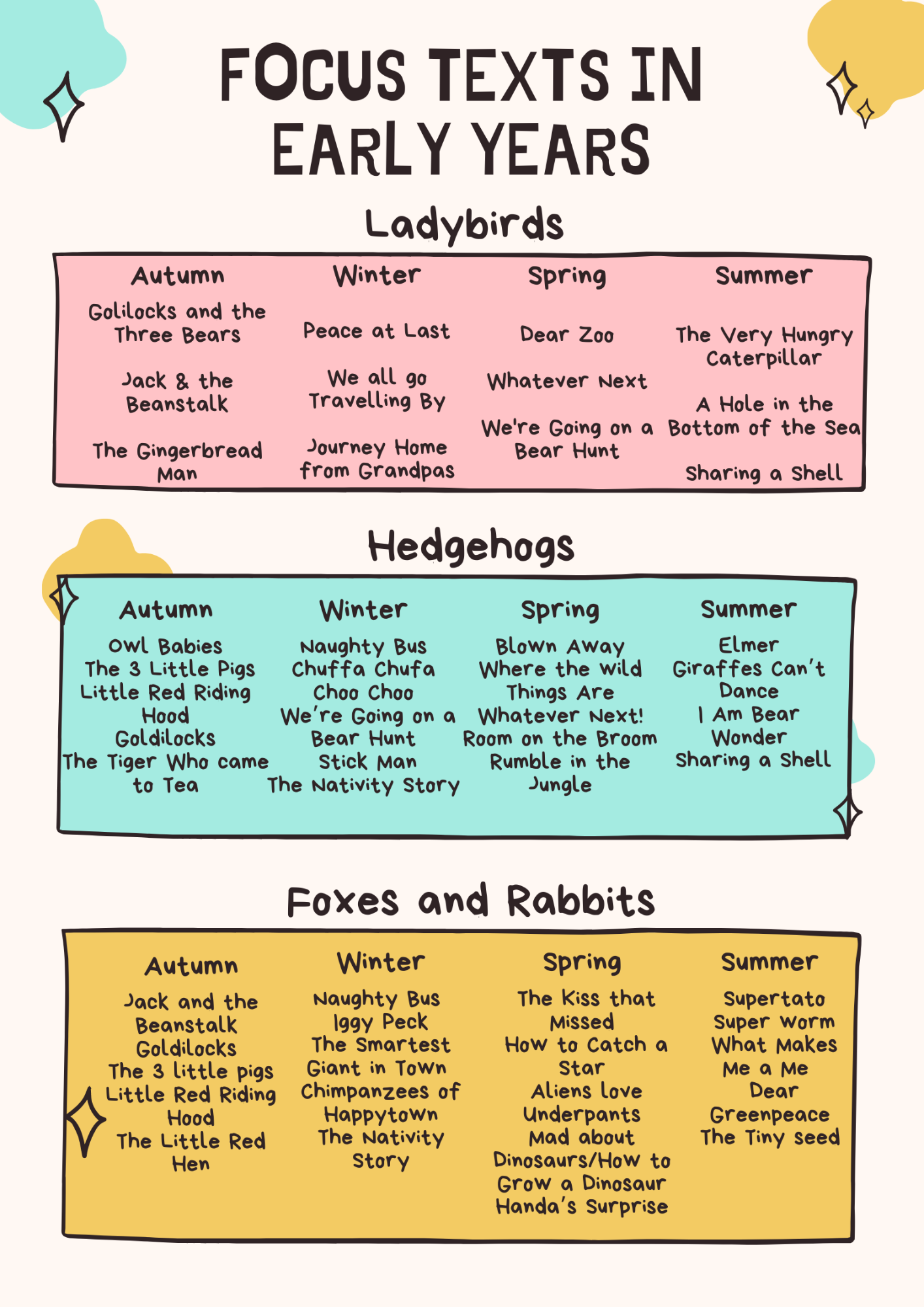 What else do we read?
We are immersed in books in Early Years! As well as fully stocked, beautiful reading areas in our classrooms which contain a selection of fiction and non-fiction and other stories linked to our focus text and topic, we also have books dotted about throughout the room in different areas of provision, including outside! We read a story at home time too - this is often from our carefully selected library of books, specifically chosen to challenge stereotypes and explore themes of culture, identity, race and gender. Whilst we provide a wide range of books intended to broaden our children's knowledge and understanding of the world, we are also mindful to provide books which also represent our children's own experiences and realities.
How can I help at home?
You can help by talking to your child about the story they have been reading in class. Ask questions such as, "Who were the characters in the story?", "Where was the story set?", "Were the characters happy or sad? Why?", "What happened in the end?", "Did you like the story? Why?".
Why not visit the local library to borrow some of our key texts...! Reading the same stories at home will really help your child to gain a deeper understanding of the book and help them develop their literacy skills even further.
If you can offer your child real life experiences linked to the story, this can be a wonderful enhancement and learning experience. For example, growing bean plants when reading Jack and the Beanstalk, going on a 'bear hunt' in local woodland when reading We're Going on a Bear Hunt or even taking a family trip to the seaside when reading Sharing a Shell.