We are a Good school!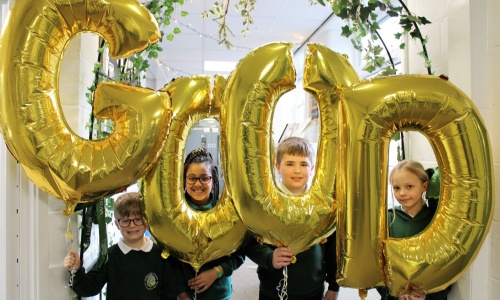 Fully transformed Woodlands Primary School graded as 'Good' by Ofsted
Staff and pupils are celebrating the news that Ofsted has judged the primary and nursery to be 'Good' in all areas.
Mrs Johnstone with the Woodlands Junior Leadership Team
The transformation of Woodlands, previously rated 'Requires Improvement' by Ofsted in 2018, began in January 2021 when Mercia Learning Trust appointed a new headteacher with a powerful vision for its future and steadfast commitment to improve the school.
Lauren Johnstone comments, "I was looking for a headship in a school requiring improvement as I knew I had the determination and skills to completely transform a school for the benefit of the pupils and community. It doesn't matter where a school is geographically located or what the history of the school is; there was no reason why this school could not improve if the team was fully committed and had the support and resources necessary." With substantial support from Mercia Learning Trust, Lauren Johnstone and her team made a massive investment in the learning and physical environment, drawing on safeguarding, SEND, school improvement and central team expertise from across the trust. Following the inspection of the school, Lauren commented: "This 'Good' judgement has truly been a team achievement. The herculean efforts of my staff have paid dividends, and finally we have a school our children deserve and can be proud of."
Mrs Johnstone and children feed the school pets
Parents and families have bought into the transformation of Valley Park to Woodlands Primary (the name-change occurred in January 2022, and was shortly followed by a 2-day Ofsted inspection on 9th and 10th February). Parent feedback during this time demonstrated the high levels of parental support for the school: an impressive 98% of parents said, "my child is happy at this school", "my child feels safe at this school", "my child does well at this school", and "there is a good range of subjects available". 96% of families said, "I would recommend this school to another parent", The Ofsted inspectors remarked "this is a school that staff, pupils and parents are proud of", "leaders have developed a positive relationship with the community" and "parents are really positive about the school".
Woodlands parent, J. Bennett, said "Mrs Johnstone has turned the school around in such a short time - we can't wait to be part of the Woodlands community and see the school grow into something wonderful. Thank you to the staff for making the school what it is today!". Another parent, K. Scotherne Allen, said, "My son is really happy here and he's continually progressing, not just academically but socially and emotionally, too."
"The vision I have for Woodlands," added Mrs Johnstone, "is focused entirely on the children. It's about giving the children the school, staff, provision and experience they deserve, with clearly defined 'family values' based around respect. Ofsted said "the school invests a lot of time in pupils' personal development."
Woodlands Primary has a forest school on site and offers the children opportunity to experience outdoor learning on a regular basis. As well as fully refurbishing the school, the team have removed virtually all plastic equipment and resources, replacing them with natural, "curiosity-approach", materials. The curriculum has been designed to meet the needs of the children, with a relentless focus on reading, writing and maths, and a wide range of foundation subjects, underpinned by equalities and protected characteristics. Ofsted picked up on this, stating in their report, "leaders have developed a curriculum that is ambitious and meets the needs of the community they serve."
Mrs Hall, Deputy Headteacher, discusses school matters with members of the Junior Leadership Team
Over recent months, Woodlands Primary has experienced a marked increase in interest from local families. As such, demand has dramatically increased, and some year groups already have waiting lists in place.
Louise Haigh MP for Sheffield Heeley said: "I'm absolutely delighted that Ofsted had inspected Woodlands Primary School and provided them with a Good rating. This is a testament to the hard work of all the staff, children and parents who have been working together for the school and the local community.
"The school has really transformed in recent months and years and has received this rating because they put the needs of the children first.
"I know, that with this new rating, they will go from strength to strength. Congratulations to all involved."
Green party Cllr Alexi Dimond remarked, "I'd like to congratulate Headteacher Mrs Johnstone and all the staff at Woodlands Primary for their fantastic achievement in attaining a 'Good' Ofsted report. The children and local community can all rightly be proud of themselves and their school. This report shows that the school is giving its pupils the platform to achieve their dreams."
Other key headlines from the Ofsted report:
The school is a caring and welcoming environment.
Pupils play and learn in a respectful and caring way.
The staff have high expectations for all pupils and provide care and support to help pupils in their journey through school.
Pupils feel safe and know to report any concerns they have to an adult.
Staff feel listened to and appreciate the measures leaders take to reduce their workload.