Woodlands Partners with Blend Kitchen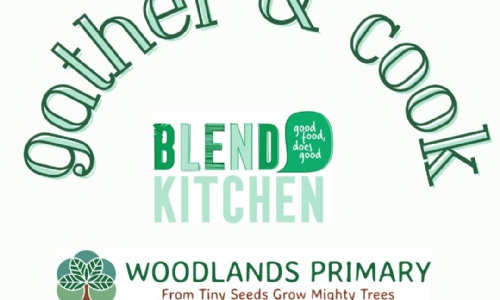 Blend Kitchen, a Sheffield-based social enterprise, is partnering with Woodlands Primary School to provide a five-week enrichment programme named 'Gather & Cook', for a group of six children from the school. The programme's aim is to provide a supportive and engaging environment for the children to learn the basics of cookery, nutrition, sourcing fresh local food, and setting tables and food presentation.
Throughout the programme, the children will visit Blend Kitchen's restaurant on Ecclesall Road, Sheffield, every week for five weeks. Blend Kitchen's team of chefs and hospitality experts will teach the children valuable life skills, such as how to cook healthy meals from scratch, how to source fresh local food, and how to present food beautifully on a plate. Additionally, the programme will incorporate an excursion to the Moor Market in Sheffield to enable the children to procure the ingredients they need to create their meals.
The children, who have been chosen for the programme because they have Autism, will have the opportunity to learn and achieve success in a non-traditional school enrichment programme. Autism is a developmental disorder that affects a person's ability to communicate, interact with others, and process sensory information. Children with Autism often face additional challenges, including difficulties in socialising and forming friendships, and in some cases, they can find it hard to cope with changes in routine or new environments.
However, this programme aims to provide a supportive and nurturing environment that encourages the children to develop confidence, self-esteem, and pride in their abilities. The programme will give the children the chance to experience success and achievement in an area where they may not have had previous opportunities. By participating in the programme, the children will learn valuable life skills that will benefit them throughout their lives.
After the five weeks, the children will put their new skills to the test and cook a three-course meal for their families, who will come to the restaurant to enjoy the experience of eating together. The experience will not only give the children the chance to showcase their new skills, but it will also provide an opportunity for them to bond with their families over a delicious meal.
Blend Kitchen is a Sheffield-based social enterprise restaurant and events space that provides life changing life and work experience to those marginalised from the workplace. For many of their trainees, Blend Kitchen is their first-ever experience of paid employment. The organisation aims to give them back their dignity and pride, as well as a future, while challenging societal misconceptions and prejudices.
Blend Kitchen are the winners of Sheffield Business Awards "Social Impact Award – Best Social Enterprise" in 2022.
Woodlands goes above and beyond to give its children experiences that will enrich their lives and allow them to flourish. The 'Gather & Cook' programme, therefore, provides the children with a unique opportunity to engage in a creative, hands-on learning experience that complements their academic studies.
In summary, the five-week enrichment programme is a fantastic opportunity for the children to learn valuable life skills, showcase their creativity, and build self-esteem and pride in their abilities. It is a great example of how social enterprises and schools can work together to provide unique and enriching experiences for children who face challenges in their lives. By giving these children the tools they need to succeed, Blend Kitchen and Woodlands Primary School are making a real difference in the lives of some of Sheffield's most vulnerable and disenfranchised people.