Oracy Skills Shine in Online Safety Week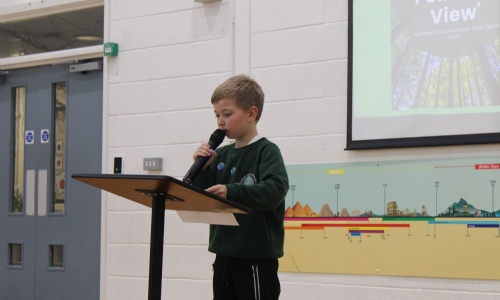 Last week was Online Safety Week at Woodlands.
The children were learning all week about a range of topics and issues relating to Online Safety.
This culminated in an afternoon of presentations, which we linked with our work on oracy and presentation skills. Years 3-6 delivered a wide range of fantastic arguments, performances and information about Online Safety to a group of expert adults in the field!
We were very honoured to welcome:
Andrew Sherwin from The Curve
Tony Paskin from Ontaro
Michael Jervis from Mattresses Online
John Chapman
Heather Chapman from The Web Word, and
Debs Sutcliffe from Virgin Money
The panel questioned pupils after each presentation, and were really impressed with what they saw. Here's some great feedback from Tony Paskin:
Thank you for the opportunity to see and listen to the children today. I was not sure what to expect, but was overwhelmed by how good the children's presentations were and all the hard work they put in.