Reading
By placing reading at the heart of our curriculum we want to instil a love of reading for pleasure from the start, whilst growing successful, fluent readers who can access and comprehend a wide range of well-matched texts. By providing exposure to a wide range of quality texts we want them to gain knowledge of the world and become confident and knowledgeable talkers and writers.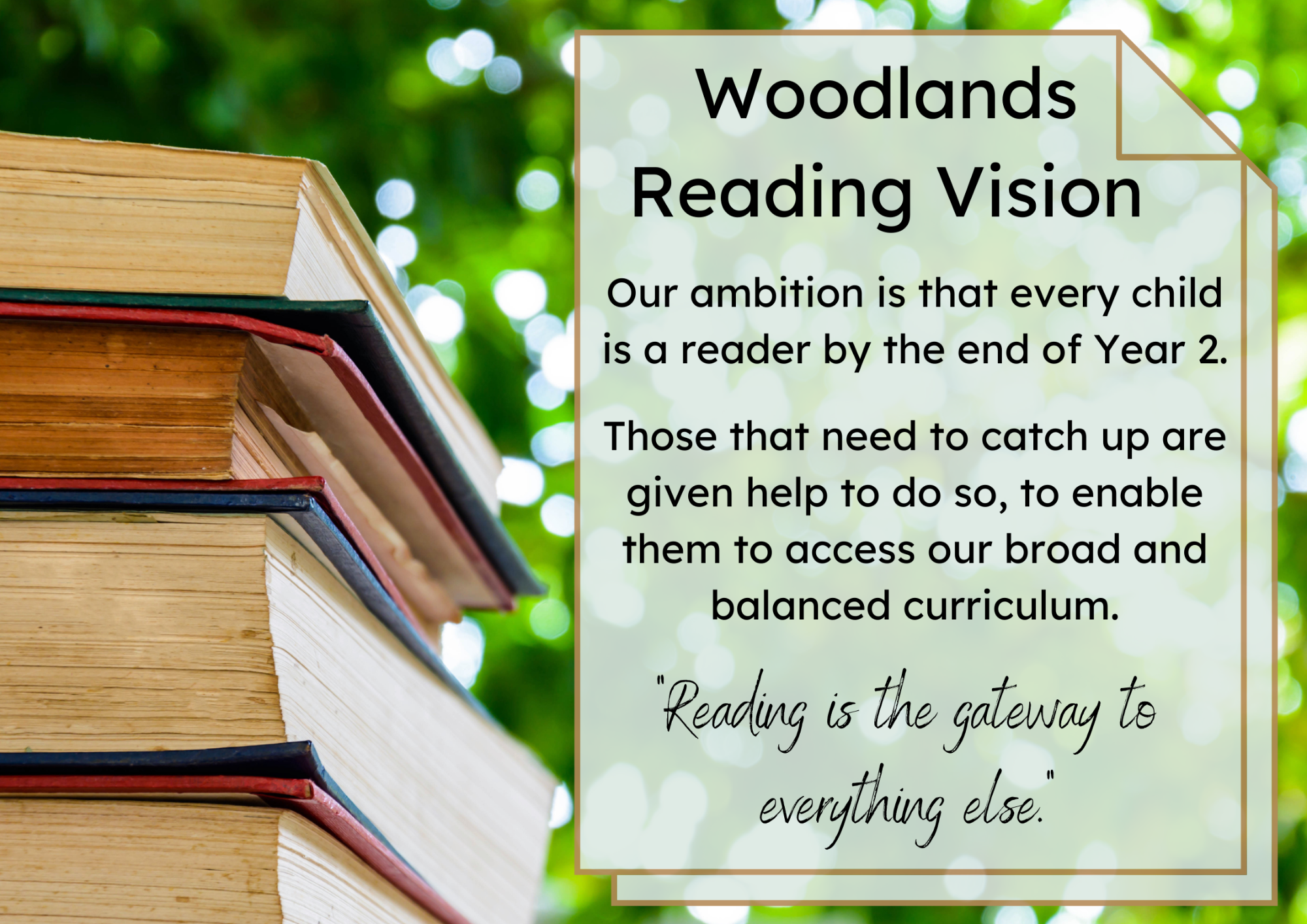 Now what?
Intelligent talkers

Insatiable readers

Impeccably behaved

Inclusive Citizens

Curriculum texts are carefully chosen so that pupils have the knowledge they need to be confident and knowledgeable talkers.
Daily 'book talk' sessions allow pupils to deepen their comprehension of texts and widen their vocabulary making them knowledgeable talkers.
Deliberate, daily teaching of fluency means this skill becomes automatic, allowing pupils to focus on comprehension.

'Reading Anthologies' are carefully selected to expose children to a wide range of knowledge about the world.
Adults enjoy sharing books aloud every day instilling a love of reading for pleasure.
The school library is live and vibrant and our librarian inspires a love of reading and personalises book choices to grow a love of reading for pleasure.

All adults model excellence when handling and storing books meaning pupils treat books with care and value them.
Book match in school is carefully monitored so that pupils are reading well-matched texts within their zone of proximal development and are experiencing daily reading success.
Adults monitor and track 'reading at home behaviours' and promote and reward journeys towards being successful, fluent readers.

Reading fluency is taught from an early age so that increasing numbers of pupils are fluent by Year 4 and are able to access and comprehend a wide range of texts.
Pupils are exposed to a wide range of texts which reflect their own realities, and those of others, so they gain knowledge of the world and develop empathy and an understanding of the world.
Reading is made up of many parts. The three key areas that we focus on are:
1. Learning to read
2. Reading to learn
3. Reading for pleasure
1. Learning to read
We use the highly successful Read Write Inc. Phonics programme to teach our children to read, write and spell. Our children do well in the phonics screening check and by Year 2, the majority are fluent readers with the best chance of success in the KS1 tests. Ruth Miskin Training recognise us for teaching the Read Write Inc. programmes with fidelity and passion – we know what it takes to make literacy pleasurable and rewarding for our children. Using Read Write Inc. ensures that we:
Raise standards in reading and writing for our children
Are all expertly trained by Ruth Miskin Training – including our headteacher, Mrs Johnstone
Gain the latest programme updates through regular visits from our Ruth Miskin trainer
Release our reading leaders to ensure our high standards are maintained.
To visit the parent pages on the Ruth Miskin Training website go to:
https://www.ruthmiskin.com/en/find-out-more/parents/
How long will it take to learn to read well?
By the end of Year 2, your child should be able to read aloud books that are at the right level for his or her age. In Year 3 we concentrate more on helping children to understand what they are reading, although this work begins very early on. This happens when the teacher reads to the children and also when the children read their own story book.
How do I know the teaching will be good?
All the staff have been trained to teach reading in the way we do it in this school. We believe that it is very important that all the teachers and teaching assistants work in the same way. Senior teachers watch other teachers and teaching assistants teaching to make sure that the children are learning how we want them to learn.
If you are worried about the teaching or you have any questions, please come to school and talk to us.
Does it matter if my child misses a lesson or two?
It matters a lot if your child misses school. The way we teach children to read is very well-organised, so even one missed lesson means that your child has not learnt something that they need to know to be a good reader.
What if my child finds it difficult to learn to read?
We want children to learn to read, however long it takes us to teach them. We will find out very quickly if your child is finding reading difficult. First, we move children to a different group, so that we can make sure that they have learnt what they need to know. If they still struggle, we give them extra time with an adult, on their own. These adults are specially trained to support these children. Your child will still be in the same group with the other children and won't miss out on any of the class lessons.
If we have any serious worries about your child's reading, we will talk to you about this.
Some children take a bit longer to learn to put sounds together to read a word, e.g. c-a-t to make the word 'cat'. At our meeting, we will explain how you can help your child to do this.
What if my child is dyslexic?
The way we teach reading is especially helpful for children who might be dyslexic. This is because we use a very well-organised programme that has a strong focus on phonics. This is very important for children who find learning to read difficult. If you are worried about your child, please come and talk to us.
My child has difficulty pronouncing some sounds. Will this stop them learning to read through phonics?
This isn't a problem for learning to read as long as we know what sound the child is trying to say. This is not something to worry about. Many children have a few sounds that they can hear clearly but find it difficult to say, particularly the l-sound, r-sound, w-sound, th-sound, s-sound, sh-sound and j-sound. Often they say a t-sound for the c-sound; "tttssh" for the s-sound; "w" for the r-sound and "r" for the l-sound. You can help your child by encouraging him or her to look at your mouth when you say the sound. Whatever you do, do not make your child feel a failure. They can easily learn to read, even if they find one or two sounds difficult to say.
Don't hesitate to contact us if you have any concerns. We are here to help.
Read Write Inc. at Woodlands Primary School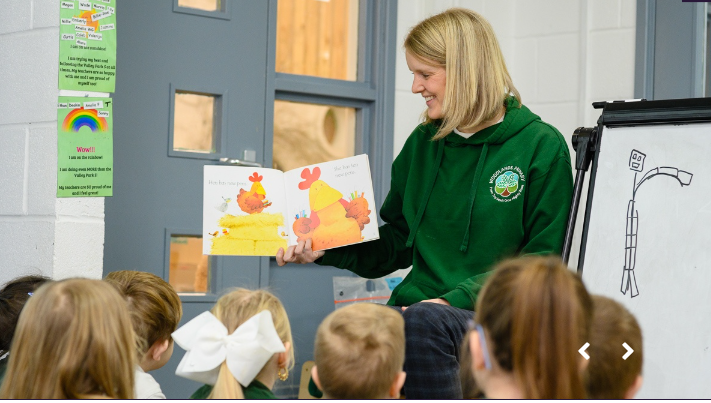 Learning to read is the most important thing your child will learn at our school. Everything else depends on it, so we put as much energy as we possibly can into making sure that every single child learns to read as quickly as possible.
We want your child to love reading – and to want to read for themselves. This is why we put our efforts into making sure they develop a love of books as well as simply learning to read.
How will my child be taught to read?
We start by teaching phonics to the children in the Reception class. This means that they learn how to 'read' the sounds in words and how those sounds can be written down. This is essential for reading, but it also helps children learn to spell well. We teach the children simple ways of remembering these sounds and letters. Ask them to show you what these are.
The children also practise reading (and spelling) what we call 'tricky words', such as 'once,' 'have,' 'said' and 'where'.
The children practise their reading with books that match the phonics and the 'tricky words' they know. They start thinking that they can read and this does wonders for their confidence.
The teachers read to the children, too, so the children get to know all sorts of stories, poetry and information books. They learn many more words this way, and it also helps their writing.
How will I know how well my child is doing?
We will always let you know how well your child is doing.
We use various ways to find out how the children are getting on in reading. We use the information to decide what reading group they should be in. Your child will work with children who are at the same reading level as him or her. Children will move to a different group if they are making faster progress than the others. Your child will have one-to-one support if we think he or she needs some extra help to keep up.
We also use a reading test so that we can make sure that all our children are at the level that they should be for their age compared to all the children across the country.
In the summer term, the government asks us to do a phonics check of all the Year 1 children. That gives us extra information about their progress. We will talk to you about how well your child has done, and especially if we have any worries at all.
For further information and some fantastic videos about Read Write Inc. please visit our phonics page.
Woodlands Primary School uses the Read, Write Inc scheme of work to deliver high quality phonics teaching. Further detail can be found here.
What is the Fluency?
At Woodlands, we use a Reading Rope to explain the meaning of fluency: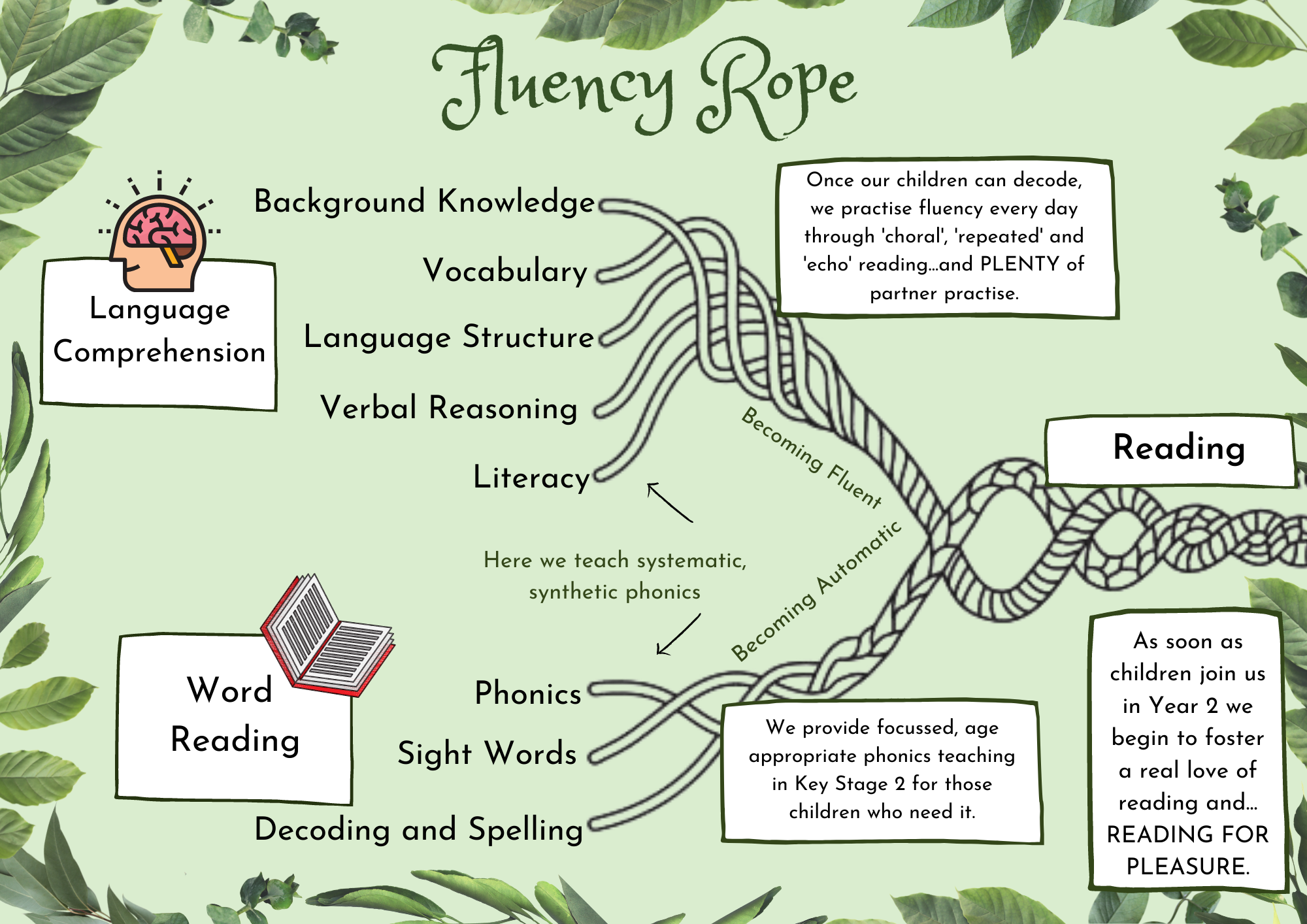 In 2001, Dr Hollis Scarborough created the Reading Rope using pipe cleaners to show how the different "strands" of reading are all interconnected yet independent of one and another. For many children, learning to read is a challenge. Scarborough's Rope captures the complexity of learning to read.
Scarborough's Reading Rope is made up of lower and upper strands. When all of these component parts intertwine it results in skilled reading with accuracy, fluency, and strong comprehension.
Children generally become fully fluent around the age of 8 or 9 (around Year 4). At Woodlands Primary School we recognise that once our children have learned how to decode, they can sometimes spend too long on the 'becoming fully fluent' part of their reading rope.
We know that when a child is not fully fluent they use up lots of mental energy, which creates difficulties when they are trying to use all their thinking space for comprehension.
When a child is reading fluent, they read 'automatically' which frees up their brain space for thinking about what they are actually reading (comprehension)
Because of this, we deliberately and specifically teach reading 'fluency' every day in Key Stage 2. Our aim is for every teacher to strengthen the 'reading rope' of every child towards them becoming fully fluent readers.
What can I do to help?
Your child will bring different sorts of books home from school, a library book and a reading book. It helps if you know whether this is a book that your child can read on their own or whether this is a book that you should read to them. The teacher will have explained which is which. Please trust your child's teacher to choose the book(s) that will help your child the most.
Help your child to sound out the letters in words, 'Fred Talk' and then to 'push' the sounds together to make a whole word. Do not to the letters by their names, use
'Pure Sounds'. Help your child to focus on the sounds. You can hear how to say the sounds correctly by searching on YouTube for 'Read Write Inc. Phonemes
Pronunciation Guide'
Sometimes your child might bring home a picture book that they know well. Please don't say, 'This is too easy.' Instead, encourage your child to tell you the story out loud; ask them questions about things that happen or what they think about some of the characters in the story.
We know parents and carers are very busy people. But if you can find time to read to your child as much as possible, it helps him or her to learn about books and stories.
They also learn new words and what they mean. Show that you are interested in reading yourself and talk about reading as a family.
The films below shows parents and carers how we teach children to read and write with Read Write Inc. phonics and will help you with how to practise together at home.
http://www.ruthmiskintraining.com/teacher-support/17/index.html
2. Reading to learn
The Woodlands Primary School Reading Pledge
3. Reading for pleasure
Every day, every class reads their core books.