SEND
Our Philosophy
Woodlands Primary School is committed to ensuring all pupils have access to a broad and balanced curriculum whatever their gender, ethnicity, religion, sexual orientation, needs or abilities. Not all pupils with disabilities have special educational needs and not all pupils with SEND meet the definition of disability but every member of staff, in conjunction with the Governing Body and Local Authority, has a responsibility to make sure that all young people have an opportunity to attain their maximum potential in all aspects of the curriculum.
We work very closely together across the Mercia Learning Trust by taking positive action to ensure that our settings make appropriate provision through curriculum planning, delivery and assessment for children of differing abilities, alongside encouraging children to be involved in their own learning and to be aware of their targets.
You can find lots of information about SEND at Woodlands Primary School in our SEND policy at the bottom of the page.
Our SENDCo, Inclusion and Behaviour Leads
Hannah Morgan BA, PGDip Speech and Language Therapy, PGDip Education and Leadership, PGCE & Qualified SENDCo
Hannah is our Special Needs Co Ordinator and has been a teacher at Woodlands Primary School for four years. Hannah has predominantly worked in Year Two but has a wide range of teaching experience across most year groups in school.
Before teaching at Woodlands Primary School, Hannah worked as a paediatric Speech and Language Therapist in primary schools across Hackney, London. The experience and skills that she gained from this profession are extremely beneficial within Hannah's role as SENDCO and ensure that our children are able to access expert SALT support from the very start of their SEND journey in school.
Hannah is very passionate about supporting pupils with special needs and facilitating teachers to effectively plan and provide for children who struggle in school.
Wendy Scott, BSc, PGCE & Qualified SENDCo
Wendy is our Inclusion Lead and also one of our Deputy Heads.
Wendy has significant experience teaching in a wide range of schools across Sheffield, working in education for over 30 years. She has held a wide range of roles within schools including classroom teacher, Head of School and Locality SENDCo.
Wendy also has extensive experience and knowledge of safeguarding, including those who are Looked After by the Local Authority.
Jo Thomas, BA (Hons)
Jo is our Behaviour Lead at Woodlands Primary School.
Jo has experience working with a variety of children across the city in a host of contexts, including an array of diverse primary schools and a secure unit.
Jo has substantial experience supporting children with their social, emotional and mental health, whilst also engaging children by supporting their behaviour for learning.
Within this role, Jo liaises closely with the Local Authority and external agencies to ensure all support provided at Woodlands Primary School is appropriate, high-quality and administered in a timely manner.
Definition of SEND
A pupil has SEND if they have a learning difficulty or disability which calls for special educational provision to be made for them. They have a learning difficulty or disability if they have:
A significantly greater difficulty in learning than the majority of the others of the same age
A disability which prevents or hinders them from making use of facilities of a kind generally provided for others of the same age in mainstream schools
Special educational provision is educational or training provision that is additional to, or different from, that made generally for other children or young people of the same age by mainstream schools.
The Four Areas of SEND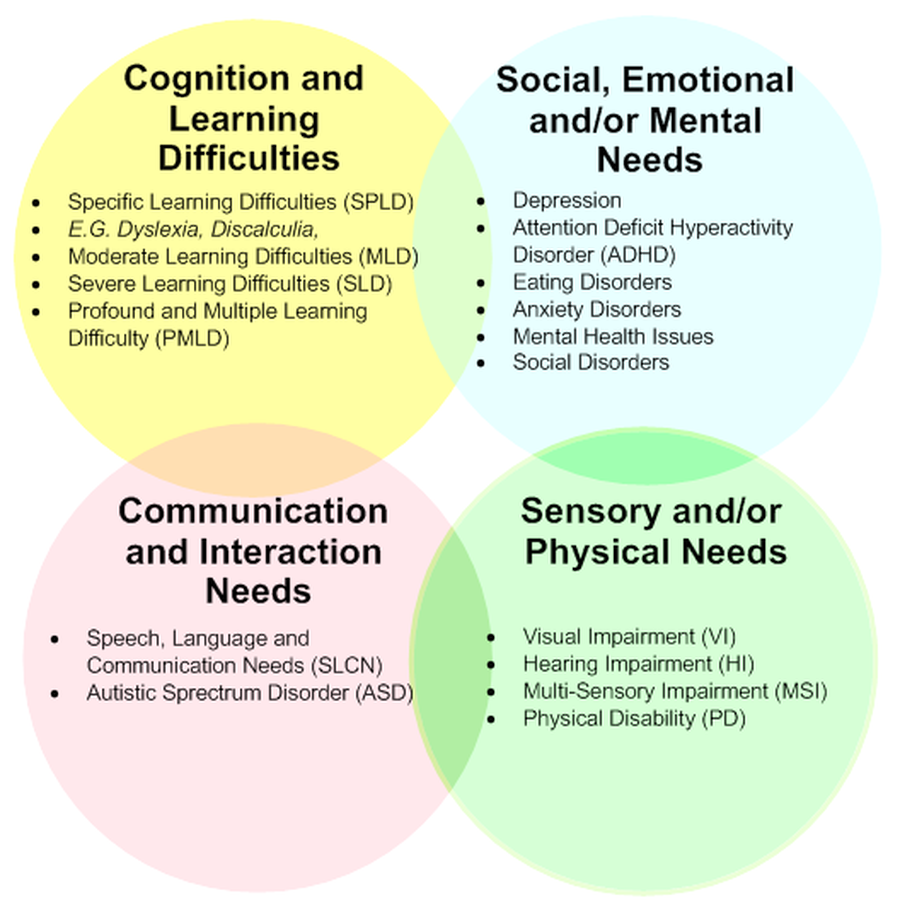 How do staff in school identify SEND?
Academic Assessment
We assess each pupil's current skills and levels of attainment on entry to school and at the start and throughout each academic year. Our assessments build on previous settings and Key Stages, where appropriate. Class teachers make regular assessments of progress for all pupils and identify those whose progress:
Is significantly slower than that of their peers starting from the same baseline

Fails to match or better the child's previous rate of progress

Fails to close the attainment gap between the child and their peers

Widens the attainment gap
Slow progress and low attainment will not automatically mean a pupil is recorded as having SEN.
Social & emotional, communication, physical and other needs
We will observe and assess pupils needs and where appropriate refer to external agencies e.g. Speech and Language Therapy. This is for pupils who:
Have been identified by an external agency as having a specific area of need (e.g. GP, Health Visitor etc)

Have been identified by parents or class teacher as requiring additional support for social and emotional, physical or communication difficulties.

Fail to make progress in one of the afore mentioned areas. A diagnosis does not necessarily mean a pupil requires additional support, this will be decided upon a discussion between parents, teacher, SENCO and (where appropriate) pupil.
When deciding whether special educational provision is required, we will start with the desired outcomes, including the expected progress and attainment, and the views and the wishes of the pupil and their parents. We will use this to determine the support that is needed and whether we can provide it by adapting our core offer, or whether something different or additional is needed.
I am worried my child has SEND, what do I need to do?
Your first point of contact should always be your child's class teacher. Please make an appointment to discuss your concerns and your teacher will be able to talk these through with you, offer help and advice and make an initial plan of support if required. This may include a meeting with our SENDCo who may wish to talk to you and your child as well as visit the classroom to observe your child. We may then decide upon a more formal plan of school based support or start a referral process to outside agencies such as the Speech and Language Therapy service to gain further support with assessment and advice. We will always keep you updated throughout this process.
If you remain concerned following discussions with your class teacher then you can make an appointment to speak to our SENDCo Hannah Morgan who works Wednesday to Thursday. If you feel that further support is needed, please contact our Deputy Head / Inclusion Lead Wendy Scott who is in school all week.
Please see the SEND Journey Flow Diagram below for more detail about the process of identifying SEND at Woodlands Primary School.
If you have any further questions, please get in touch with Hannah Morgan or Wendy Scott who will be happy to give you any help or advice needed. We also have further areas to explore in the SEND sub menu.
Our SEND policies can be seen on our Policies page.